Touring
Anton Guides | Alpine School St.Anton
The No 1 Guiding Company in St. Anton, Zürs and Lech.
Touring Guiding
"To us, touring is the pure way of skiing."
Touring Guiding
for Skiers and Snowboarders
Every Day from 9 AM to 15/16 PM
from € 360,- per Day
See all Prices
It doesn't matter if it is your first ski tour ever or if you are already an experienced ski mountaineer. The Arlberg offers endless backcountry opportunities for everyone.
We offer different programs depending on your skills and wishes.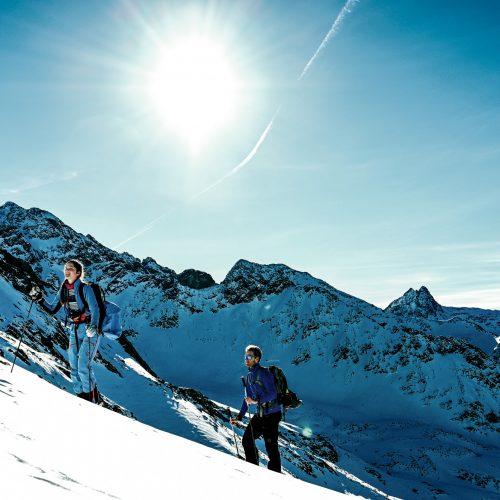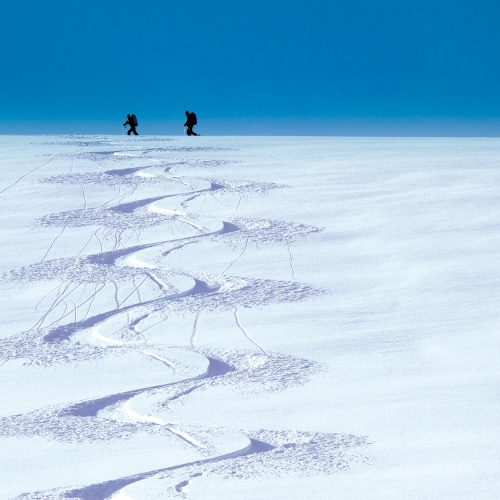 How does a typical Touring Day look like!
We start our touring day at 09:00 AM at our meeting point.
First we do a safety briefing.
Using the local cable cars we get to beginning of our uphill skin.
We will tailor the duration of the climb according to your skills and stamina and can go from 30 minutes to 3 hours.
Bring some provisions.
The downhill ski ends either at some nice mountain restaurant or back in the village.
The length of the day depends on the itinerary, the lunch break and your fitness.
Touring Guiding
for Experianced Skiers and Snowboarders
We will guide you far away from the beaten tracks into the back-country of the Arlberg.
"To us, touring is the real way of skiing. It is not only about earning you turn. It is about the quietness of the mountains, the pace, the flow, the solitude that you will experience when you leave the busy slopes."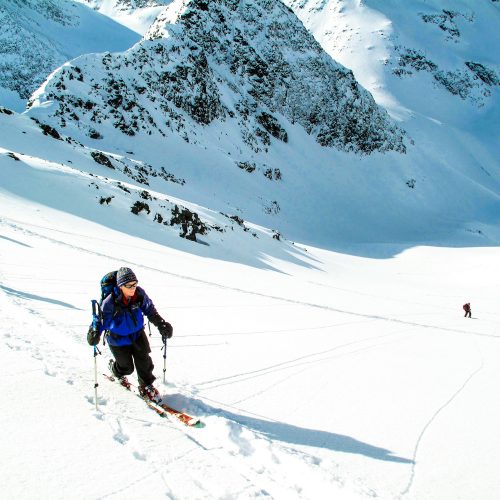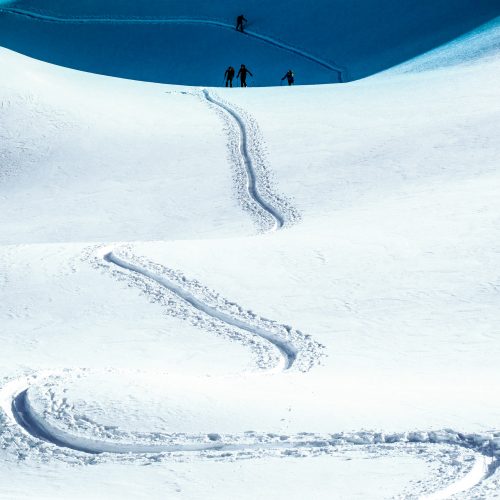 Touring Courses
for Skiers and Snowboarders
If touring is new to you, with us you will learn everything about it.
What is the right gear for you? Clothing, bindings, boots and skis
Tour planning
Understanding the avalanche report
How to use your safety gear, transceiver, shovel, probe
Hiking technique and pace
Breaking trail and route finding
The right timing for breaks, food and drink
Tailor-Made Snowboard Tours
We understand the specific demands snowboarders have when they explore the back-country, because we are on board as well.
Equipped with snowshoes or split-board, we bring you to the most exiting runs in the area.
If you need to hire Equipment, Sport Jennewein will sort you out.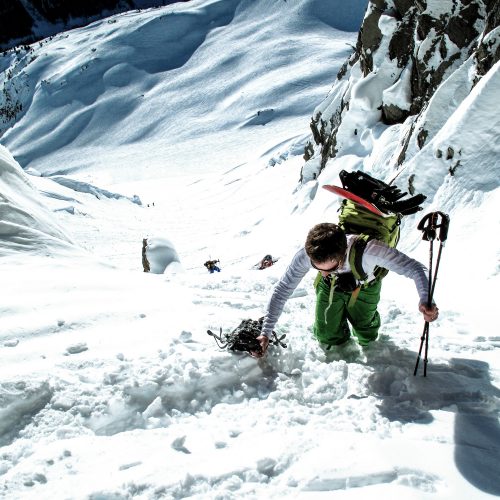 Booking and Payment
Booking
Please go to "Find your Guide", fill out the search form and choose one of the available guides.
Payment
The amount depends on the number of people and days. To book your Guide you have to pay a 30 % deposit. The guiding fee has to paid in cash to your guide in the beginning of your off-piste or touring day.
What to bring for your Touring Day
Off-Piste or Touring Skies with Skins
Split-Board or Snow-Shoes with telescopic Poles
Backpack with Ski or Snowboard caring Straps
Provitions – Water / Tea and a Snack
Helmet
Goggles and Sunglasses
Shovel*
Probe*
Transceiver*
* If you don't have your own, we will supply you for a flat rate of € 10,-.
Sport Jennwein has all the other touring equipment to rent.
Meeting Point
You will meet your guide at 9 AM in front of the Galzig cable car bottom station.
Cancellation Conditions
When you cancel your booking:
up to 1 week before the booked date, you get back your deposit and no guiding fee has to paid at all.
up to 3 days before the booked date, your deposit covers the cancellation fee. No guiding fee has to paid.
up to 1 day before the booked date, you have to pay the half guiding fee.
less than 1 day before the booked date, you have to pay the full guiding fee.
Most travel insurances cover cancellation costs, check with your agent!